We're Engaged!
We went up to Manchester for the day with friends. To see people we have not seen in a while, whilst also doing some promotional work for my art and our convention. We had come out of the bar for a photoshoot, perfectly normal since it will be a while till we see each other again. The day seemed to be coming to a close, with food next on my mind…
And then Rick went down on one knee and asked me to marry him!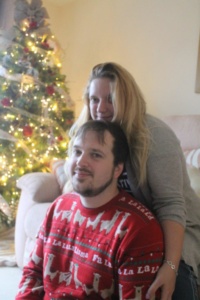 Afterwards back at the hotel, Sarah and Val helped me clean myself up from the busy day and we all went out together with our partners to an 'All you can eat' Chinese! Funny enough I pulled a cracker with Rick and a toy ring flew out! Much food was had as expected, we even managed to fit in a Christmas Market waffle too. We ended the day with a bottle of Champaign between all of us, which I've kept the cork (apparently it's a tradition?). The whole weekend really brightened my year and will now help me focus on the future.
Val was a star for recording the whole thing and working with Rick to make the day happen. I'm not sure who knew but you all keep good secrets! As you know I am not easy to hide things from.
A big sorry to those who were absent. In an ideal world I would have loved to have all my friends and family in one place to enjoy the moment together. Luckily photos and video have been provided for you to enjoy now.